Shorter, Narrower Rolls of Tyvek Now In Stock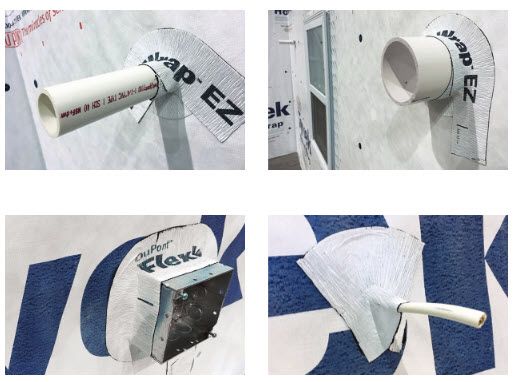 Tyvek has introduced flashing tapes in shorter and narrower rolls for smaller projects and tight areas.
These are in stock at all Erie Materials branches
TYVEK FLEXWRAP EZ 2 ¾" x 15'
FlexWrap EZ is a flexible adhesive tape designed to create an air-and water-tight seal when installed around penetrations of all different shapes and sizes. It is ideal for flashing around the many smaller electrical, HVAC, and plumbing penetrations
TYVEK FLASHING TAPE (Short Roll) 4" x 33'
Flashing Tape provides a cost-effective way to help protect jambs, heads, corners and deep sills for today's windows and buildings.It uses superior performance butyl based adhesive system that adheres well to most common building materials.
TYVEK FLEXWRAP NF (Short Roll) 9" x 15'
FlexWrap NF is a conformable, self-adhesive flashing solution for sills and non-straight portions of windows, doors and other wall penetrations. It can be applied over a wide range of building substances, including non-nailable sheathing materials like PS foam board, fiberboard, concrete masonry unit (CMU) and other such materials. Unlike competitive products, it does not require the use of mechanical fasteners in the flexed corner.