Fairway Vinyl and Aluminum Railing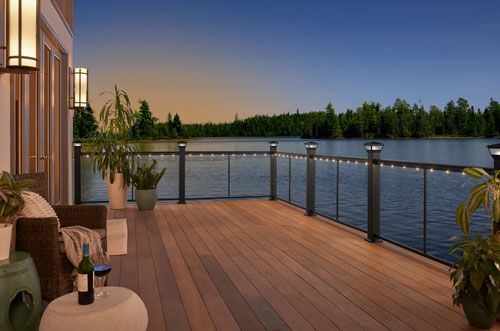 Fairway's aluminum A210 and vinyl V100 railing are now in stock at our Distribution Center.
Fairway's entire focus is on railing. Any line can meet code out of the box. Yet they're competitively priced and easy to install.
A210 Aluminum Railing. Erie stocks black with square aluminum balusters. Special order options are white and bronze railing, horizontal cable, and 4" glass slats.
Fairway V110 Vinyl Railing has an aluminum reinforcement and a breadloaf top rail. Erie stocks white with square balusters. Special order options are khaki railing, 3-rail configuration, turned or round aluminum balusters or horizontal cable infill.
Erie can special order cellular pvc, cable, steel and composite and ADA railing as well as many choices in balusters, caps, trim, gates and other options.
The cable railing system can be used on any railing material. Predrilled sleeves and posts make it easy to install.