Cost-effective roof restoration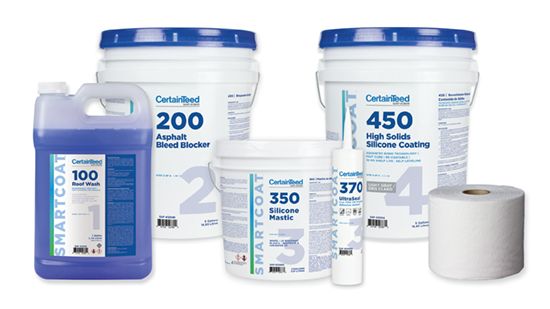 Liquid-applied roof restoration is the fastest growing segment of low-slope roofing. Designed for use over almost any preexisting substrate, CertainTeed's SmartCoat roof coating system can restore a roof to full service without the expense and waste of tearing off and replacement with factory-made membranes. Most surfaces will not need to be primed.
SmartCoat 100 RoofWash 1 gal., Blue 4,000 –12,000 sf,
SmartCoat 200 Asphalt Bleed Blocker 5 gal., Light Grey, 500 sf
SmartCoat 350 Silicone Mastic 2 gal., White 240 lf
SmartCoat 450 High Solids Silicone 5 gal., White, 25 lf
All of the items are in stock at our Distribution Center and ready for quick transfer to your location. Additional SmartCoat products are available by special order.
To learn more about SmartCoat, click here.