Become a Certified Therma-Tru Door Installer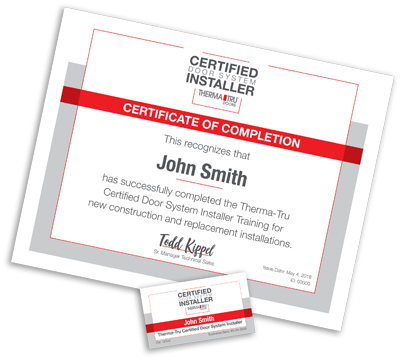 Learn from the professionals at Therma-Tru -– the expert in fiberglass door systems –- and OSI –- the expert in construction sealants –- as they take you through a door system installation every step of the way.
The Therma-Tru Certified Door System Installer Training Program walks you through the proper techniques to correctly install and seal a Therma-Tru door system. One that helps provide weather resistance, energy efficiency and smooth operation for years to come, helping to reduce callbacks while increasing customer satisfaction.

Included in the program:
Step-by-step videos with expert guidance.
Job aids and supplemental video content for quick on-site reference.
Certified Door System Installer status.
Certified Door System Installer certificate and card.