Innovative Products from Restoration Millwork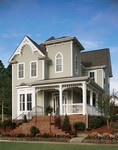 CertainTeed Restoration Millwork has introduced new products that will help your installations go faster and last longer.


J-Pocket with Cut-Out

Cut-out allows trimboards to lie flush around windows and doors and takes the work out of making perfect
miter cuts at the corners.
Slides on, Swings Closed for Fast, Easy Installs
Column Wrap
Designed as a three-sided wrap with a swinging door on the fourth side, Column Wraps are pre-cut, pre-mitered and pre-assembled to slide around existing wood load-bearing 4"x4" or 6"x6" porch posts.

Simple and versatile with two column sizes: 8"x8" and 10"x10" and two cap/base trim set designs.
Delivers better hold with a larger concealed nailing area and sturdy tongue and groove connections. Available in 2TL and 3TL. Special order.
---
Beadboard with Tightlap is a special order item. All other items are available from your Erie Materials branch within three to five days.