Don't Miss Erie Materials Expo 2018!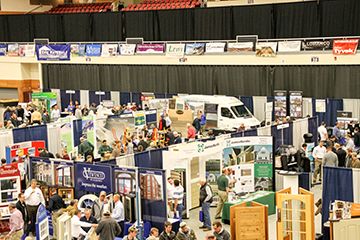 Don't Miss the Building Materials Show of the Year!
Erie Materials Expo '18
If you're a trade professional, you won't want to miss the opportunity to learn about the latest building products, see them in use, attend informative seminars, talk with manufacturers' representatives and enjoy great food at Erie Materials Expo '18!
Open to all professional contractors, architects and tradespeople
11:00 a.m. to 5:30 p.m.
Wednesday, March 21, 2018
The Turning Stone Resort & Casino
Verona, NY
More than 75 leading building materials brands on display!
Continuous product demonstrations
Free seminars on business, contractor services and current regulations
Valuable door prizes
Manufacturer experts
New products for 2018
Great food
Registration to attend the show is not required but encouraged.
Click here to register.
Free contractor seminars
Space is limited, so register early! Click here to sign up.
All seminars will be held in the Cypress meeting rooms just outside the Event Center.
NOTE: Although some seminars begin earlier, the show floor hours are 11:00 a.m. to 5:30 p.m.

9:00 a.m. - 1:00 p.m.
IRC and NYSECCC Training: Understanding the Building and Energy Codes
This informative four hour training session helps builders, remodelers and other industry professionals understand the International Residential Building Code (IRC) and the New York State Energy Conservation Construction Code (NYSECCC). The session will highlight some of the IRC Code Changes as well as the 2017 Uniform Code Supplement amendments, help attendees understand what they mean and highlight useful reference materials and resources. Additionally, attendees will learn about 2016 changes to NYSECCC then looks at individual prescriptive practices and the building science behind them.
Presenter Kevin Stack works as a builder, building scientist, and eco-literacy educator to teach, support design, and Build in Nature's Image™. He is founder and CEO of Northeast Natural Homes and Northeast Green Building Consulting, affiliated companies that focus on innovation and sustainability for homes and human-built environments based on building science, biomimicry, resilience and the sciences of life.
He builds, supports the design, and verifies the performance of innovative and sustainable construction projects, including complex and unique residential, sustainable, affordable and mixed use projects. He is a credentialed LEED for Homes Green Rater, LEED FELLOW and LEED Faculty, a RESNET certified HERS Rater, ICC 700-2012 & 2015 National Green Building Standard Verifier, and Building Performance Institute (BPI) certified Building Analyst and Envelope Professional. He has B.S. degree in Biology and M.S. degree in Sustainable Construction Management.

11:00 a.m. - noon
1:00 - 2:00 p.m.
Creating Separation from Your Competition
Understand the improved profitability of offering higher-end options, versus being forced to compete with low pricing
Strategically focus on just a few elements that can position your business for success and help you stand out from your competitors
Learn how a simple operational business philosophy with messaging, visuals, web content and a sales approach can provide you with the keys to success
Separate yourself from your competition while increasing your leads, raising your profits and positioning your brand and reputation in the top of your market
Presenter Bobby Parks is a nationally recognized deck, porch, patio, and remodeling contractor who has over 30 years of experience in the industry and delivered over 40 million dollars of residential and commercial deck and porch projects. He has conducted building and business courses at the Remodeling Show, Deck Expo, and Pool Spa & Patio Show, is a contributing editor for Professional Deck Builder Magazine and has been published in Fine Home Building Magazine.
Sponsored by Trex

Noon - 1:00 p.m.
3:00 - 4:00 p.m.
Marketing Your Business to Consumers
In this seminar we'll teach you about six proven ideas that will help you enhance your marketing efforts to reach more potential customers. Topics include developing your brand messaging, social media tips, jobsite marketing and more.
Presented by CertainTeed

1:00 - 2:00 p.m.
4:00 - 5:00 p.m.
GreenSky Loan Program
A leader in home improvement financing and trusted by thousands of contractors in the U.S., GreenSky provides consumer financing options to help you close more sales, win larger contracts, and get paid faster. GreenSky offers a broad range of payment plans, high approval rates and credit limits get you to "yes" with more of your customers.

2:00 - 3:00 p.m.
OSHA Update with Top Ten Hazards cited in the construction industry, emphasis on fall hazards.
Presented by OSHA's Ronald Williams
2:00 - 3:00 p.m.
4:00 - 5:00 p.m.
Save Time & Money With EagleView Reports
Learn how EagleView's services and solutions will save you time, increase your profits, tighten your bids, increase closing rates and make your job easier.
EagleView is the leading provider of high-resolution aerial imagery and exterior property measurement reports. With a fleet of over 100 Cesna aircrafts flying year round and proprietary, patented 3D technologies, contractors can be sure they have the most up-to-date images and most accurate property measurements available.
Spend your time on what pays: Selling, not measuring!

3:00 - 4:00 p.m.
OSHA Respirable Crystalline Silica: Construction Industry Regulatory Update and Resources
This presentation describes the provision and gives additional details to help employers better understand the requirements of the standard.
The final rule on Occupational Exposure to Respirable Crystalline Silica, published on March 25, 2016, established a new PEL of 50 µg/m3. It also required other employee protections, such as performing exposure assessments, using exposure control methods, using respiratory protection, offering medical surveillance, developing hazard communication information, and keeping silica-related records.
On-floor product and installation demonstrations by:
Andersen Windows Insert (Replacement) Window Solutions
Boral TruExterior Siding
CertainTeed Icon Composite Siding
CertainTeed Individual 5" Sawmill Cedar Impression Shingles
CertainTeed STONEfacade
DuPont Tyvek
DuraLife StepClip
Erie Materials Payment Portal
Erie Materials Proof of Delivery System
Everlast Siding
Geocel
Grayne Siding
Ideal Roofing Junior HF
Ideal Roofing Wakefield Bridge
IKO
Kingspan
LP SmartSide/Diamondkote
Tapco Tools
ThermaTru Door
Trex Elevations
Versetta Stone
More than 75 brands, companies and organizations will be on display. Several manufacturers will be holding on-floor demonstrations of new products and best installation practices.
ABC Metal Roofing
Aeratis Porch Flooring
AirVent
AJC Tools
Andersen Windows
ATAS
Atlantis Rail
Benjamin Obdyke
Beth Allen
Boral TruExterior Siding & Trim
Bostitch
Carlisle Syntec
Carlisle WIP
CertainTeed EverNew
CertainTeed Roofing
CertainTeed Siding
ChemLink
CNY Home Builders & Remodelers Association
Cultured Stone by Boral
Custom Logo
DaVinci
Derby Building Products
Diamond Kote
Dow
DuPont Tyvek
DuraLife Decking
Eagleview
Everlast Siding
EverNew Decking & Railing
Fairway Railing
Fypon
Gaco
GCP
Geocel
Goldberg
Grayne
Greensky
HB&G
Henkel/OSI
Home Builders & Remodelers of Mohawk Valley
Huber Engineered Wods
Hunter Panels
Ideal Roofing
IKO Roofing
Inspire Roofing
James Hardie
Karnak
Kingspan
Koma
Levi's
Lomanco
Low-E Northeast
LP Smartside
Malco
Marathon
Mastic Siding
Merchant and Evans
Mid-America
Mindshare LLC
MMI Door
NEG Building Products
OMG
OSHA
Owens Corning
Paradigm Windows
People Ready
Plastpro
Ply Gem Stone
Ply Gem Windows
Polar Industries
Prestige Cedar Decking
Raptor
Reeb
RLS
Schlage
Securock
Simpson Doors
Soprema
Tapco
The Foundry
ThermaTru
Trex
Trimline Windows
Upstate Printing
vegetali.d
Velux
Versetta Stone by Boral
Versico
Viwinco Windows
Vytec Siding
Wild Hog