Save Time
Reduce Errors
Generate More Estimates
Close More Sales
Be More Productive
Impress Your Customers
Easily Quote Neighboring Homes or Storm Damage Areas
Reports Start At $29.95
Erie Materials' Roof Surveyor service lets you receive fast, accurate aerial roof measurements.
When you order a Roof Surveyor aerial measurement report, every roofing job requiring accurate measurements of roof-line lengths, area and pitch, is assured to be estimated faster, more accurately, and with less delay and liability. Order a Roof Surveyor report for every project you undertake and you'll consistently boost your bottom line in lowered costs, more quotes and higher close ratios.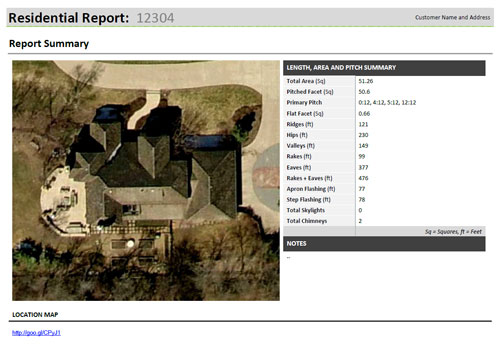 Roof Surveyor is perfect for:
Commercial roofing contractors

Industrial roofing contractors

Residential roofing contractors
Improved Productivity
Why spend extra time, manpower and resources tackling inclement weather, high-risk roofs, and limited customer schedules collecting measurements, when you don't have to? Less time measuring the roof means more time installing roofs and building your business. Roof Surveyor reports pay for themselves and more.
Better Measurements
Highly accurate measurements are obtained by trained CAD administrators using highly calibrated tools and quality-controlled production methods. Extensive testing shows these measurement reports are consistently within 1-2% of actual measurements. Use a Roof Surveyor report to start each project off right.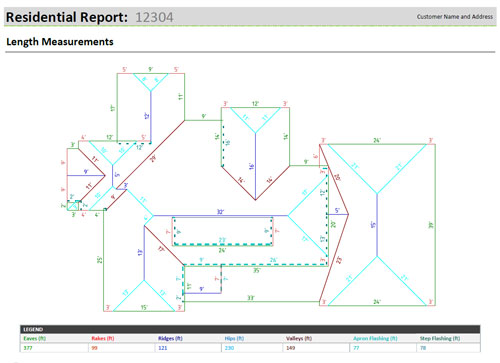 Drive for the Sale,
Not Just the Measurements
Aerial measurement reports give you a distinct competitive advantage.
Each report can be customized with your company logo and contact information, to serve as an outstanding presentation tool. Your customer will be impressed by your professionalism and use of technology and see that you're committed to a quality job done right.
The report lets you develop a firm price that can be left with a customer – on the first visit. That can have you ready to close the sale before your competitors have prepared their estimate. Get ahead of your competition and increase close ratios using Roof Surveyor reports.